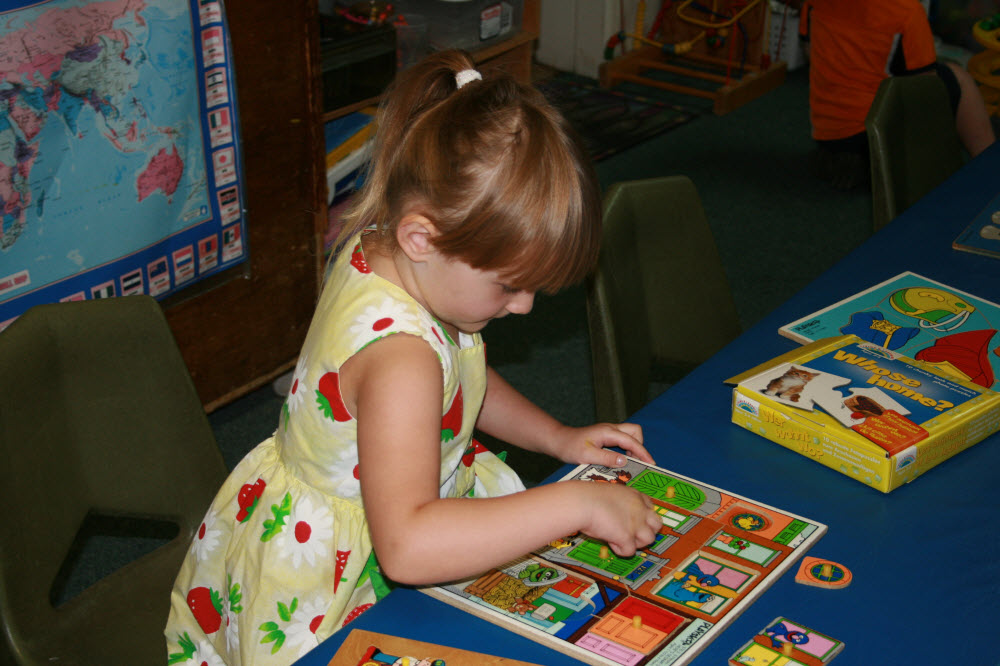 Daily Activities
The daily program is planned so that quiet and more strenuous activities are alternated and so that adequate food, sufficient rest and a safe environment are provided.
9:00 – 9:15  —  Arrival
9:00 – 10:00  —  Free Play, includes art activities, activities that interest the child, books, blocks, housekeeping corner, puzzles, games, etc.
10:00 – 10:15  —  Clean up time
Bathroom
10:15 – 10:30  —  Circle Time, includes show and tell, counting, songs, etc.
10:30 – 10:45  —  Snack Time
10:45 – 11:00  —  Opening, calendar activities, story time, letters, sounds, shapes, colors, songs, math activities and social studies and science
11:00 – 11:15  —  Work time, trace letter, coloring
11:15 – 11:30  —  Play outside or exercise inside
Dismissal – this schedule will be flexible according to weather conditions and the needs of the children

Clothing
Clothing should be comfortable, washable and suitable for the daily activities. Shoes with non-slippery soles such as sneakers designed for climbing and running should be worn.
Parents should notice weather conditions in deciding on appropriate wraps for the child to wear each day. On cold days, mittens and head coverings are important items of apparel. All children will be expected to engage in the outdoor portions of the session.
Clothing should be marked (to avoid loss) with the child's name by means of indelible ink, felt pen, or name tags (this includes all articles of clothing to be left or worn at school, as well as shoes and mittens). Printing the name in ink on the inside of each rain boot or show is effective.

Snacks
Snacks provided by the parents are offered to the children twice a day. Morning and afternoon. Parents are provided with a snack schedule letting them know "their" snack day. If the parent is unable to bring the snack on the day assigned, please see the teacher and arrange to trade with another parent. A penalty fee must be charged to anyone forgetting their snack. Snack day is the child's special day to be the helper. Fully prepared snacks may be served by the child and teacher. Some snacks lend themselves to teaching the children how to cook. If you would like to plan a cooking activity for the class, please see one of the teachers in advance and we will allow time for the project.
The snack should contribute to the health of the class and for this reason no imitation fruit juices or over-sweetened foods are allowed. This is an excellent opportunity to acquaint the children with new and interesting foods. Cups and napkins are provided by the school. Juice should be 100% fruit juice and not "punch" or "drinks". Milk is recommended in the morning class. If juice is provided, then cheese has to be offered. We are told by "Human Resources" we must provide milk (dairy products), vegetables or fruit, cheese, protein and "carbs" (crackers).
Recommended Drinks
Apple Juice

Orange Juice

Grape Juice

Milk
Recommended Foods
Whole wheat crackers (Wheat Thins, Triscuits)

Cheese

Peanut Butter

Fruits

Meats

Vegetables
Birthdays and party days may, of course, be celebrated with traditional items such as cake, cupcakes or cookies.
Suggested Menu
Cake or cupcakes

Milk or Fruit Juice

Sunflower seeds
Gum is not allowed at Nursery School.
"We say grace together"